B-litter 18 June 2013
Pictures of the eleventh week click here
Pictures of the tenth weel click here
Pictures of the ninth week click here
Pictuere of the eighth week click here
Pictures of the seventh week click here
Pictures of the sixth week click here
Pictures of the fifth week click here
Pictures of the fourth week click here
Pictures of the third week click here
Pictures of the second week click here
Pictures of the first week click here
Pictures of the puppies click here (be patient please ... there are manny pictures)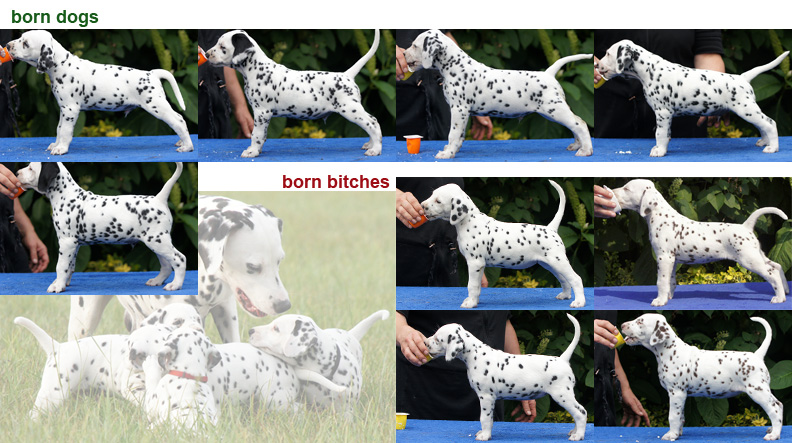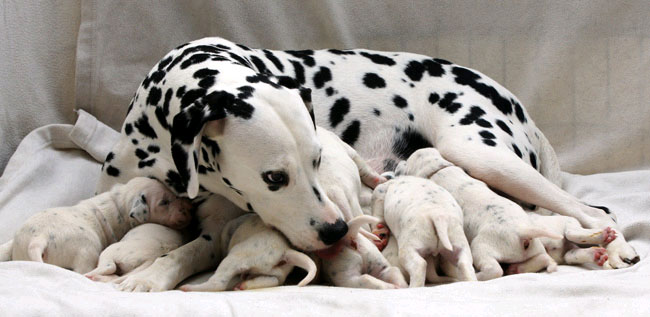 Obonya vom Teutoburger Wald and Christi ORMOND Giant Vogue are proud parents. The labor started 18-6-2013 at 20.15 hours and lasted till 19-6-2013 05.05 hours. Obonya gave birth to 9 puppies (4 females and 5 males) white/ black. The birth-weight was between 355 gram till 452 grams. Two males have a sweet little black ear and one male has a sweet little dark inner-ear. The labor was without complications. Mama Obonya and her pups are doing fine!
The webcam is once in a while online en little viedeos yo can watch at http://www.ustream.tv/channel/obonya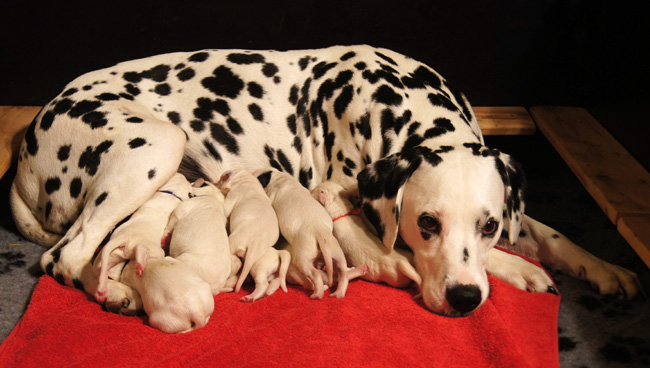 17.6.2013 Obonya vom Teutoburger Wald is 62 days pregnant!
11.6.2013 Obonya vom Teutoburger Wald is 56 days pregnant!
5.6.2013 Obonya vom Teutoburger Wald is 50 days pregnant!
2.6.2013 Obonya vom Teutoburger Wald is 47 days pregnant!
30.5.2013 Obonya vom Teutoburger Wald is 45 days pregnant!
27.5.2013 showresults Obonya's children A-litter
25.5.2013 Obonya vom Teutoburger Wald is 39 days pregnant!
Obonya is pregnant .... Christi Ormond Giant Vogue and Obonya vom Teutoburger Wald will become parents!


Christi ORMOND Giant Vogue and Obonya vom Teutoburger Wald are now a couple
Succesvful mating 17.04.2013
Pictures klik hier.
Dalmatian Kennel "Obonya Pride"
Welcome to our website Obonya's Pride



On these pages we would like to introduce you to our dogs, our kennel and our breeding goals, with lots of information and many photos.
Our thoughts about breeding

Not yet another Dalmatian kennel. Obonya's pride is founded with the sole objective to pass Obonya's excellent qualities on to a next generation. This adorable dog born at the famous German kennel "Dalmatiner vom Teutoburger Wald" is special, not only for us as a family dog.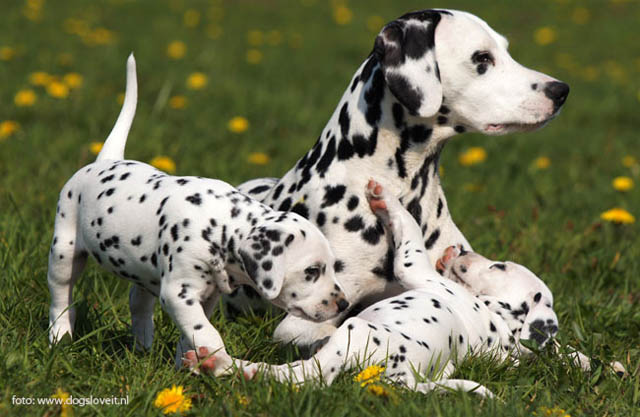 Our Obonya has never been seriously ill, and possesses an excellent heath. Because of her harmonic shaped body and her exceptional good nature Obonya won several prices on national and international dog shows.

But she is the kind of dog with the qualities that Nobel price winner, Prof. Dr. Konrad Lorenz once characterized as "unfortunately too rare to serve as a general breeding base". He particularly mentioned the presence of the combination of both good mental and physical qualities. Over and over again competent dog experts, such as judges, dog-trainers and other canine professionals, confirmed that our Obonya ideally combines these qualities, and this has prompted us to preserve this genetic heritage to the breed.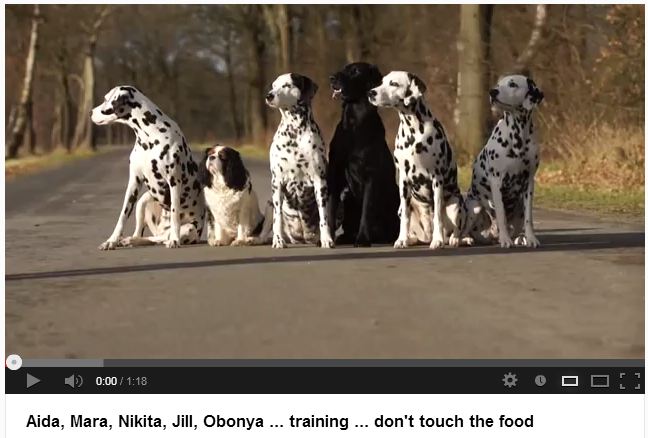 During 7 years I worked as a volunteer several times per week in a dog school and here I also trained my dogs with the philosophy of Natural Dogmanship.
If you like, you can watch a short training movie.
I have witnessed many problematic human-dog relationships, and I have learned that in dog breeding the good nature of dogs is as important as their breed specific physical appearance. Unfortunately I also observed that health problems can spoil the joy of having a pedigree dog.
A-litter 10.3.2011
Our A-litter, born 10 March 2011, as a result of the mating of "Spotniks First Farao For Ormond" and "Obonya vom Teutoburger Wald" has been thought-out: two lines of Dalmatians with mainly different pedigrees with some very famous ancestors. Two dogs with perfect looks and character, dogs that also draw attention outside shows. Mother nature was generous and rewarded us with 7 healthy puppies, all bilateral-hearing, a patch at the inner-side of the ear being the only "error".
Litter announcement for June 2013
B-litter June 2013

That's why we have decided to grant Obonya once more the joy of motherhood. The father of our B-litter will be "Christi ORMOND Giant Vogue". "Giant" is a son of the father of our A-litter (Spotniks First Farao For Ormond) and the beautiful and stable bitch "Mochaccino Dalmatian Dream" (International Champion). Out of 4 litters 'Mocha' has given birth to 39 pups, all bilateral hearing and the only "errors" were 2 times blue eyes, 7 times a patch and one time an incorrect bite.
We hope very much that mother nature will be so gracious and will honor this promising mating of Christi ORMOND Giant Vogue x Obonya vom Teutoburger Wald with a litter of healthy, soft-natured, mental stable, physical correct black/white and brown/white puppies from this in our opinion excellent combination of dalmatian breeding dogs.
The first few weeks after birth when the pups only suckle they will stay in a special decorated room in our house. After this period they will be transferred to our living (with garden) where they will grow up together with our other dogs.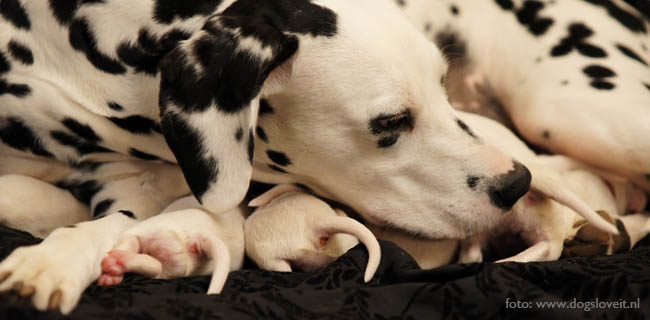 With many courses, lectures and the reading of lots of literature I acquired a broad knowledge of dog behaviour. I will try to offer everything that is needed following modern insights of raising puppies so that during the sensible first weeks they get well-prepared for their future life with a family.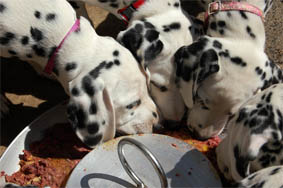 I have studied in depth canine nutrition (health problems of our other dog Nikita) and our dogs are fed on 'complete fresh meat meals'. Also this will be an excellent basis for a long and healthy life of the puppies. I maintain two websites about dog food, unfortunately mainly in Dutch but also with English and German articles at http://www.dogsloveit.info/ and only in Dutch http://www.dogsloveit.nl/. The literature study would be worth reading but is at the moment only available in Dutch!

We are member of the Netherlands Club of Dalmatian Dogs (NCDH) and the pups will be bred following the Club's rules and regulations. That includes of course: a hearing test, medical examination, chipping, an animal passport, and the pups will be registered with the Netherlands Kennel Club (Raad van Beheer) and you will receive an official pedigree.

You are most welcome, even before the pups are born, for a walk with our dogs, a cup of coffee or to receive any further information you would require. Just give us a call or send an email! Contact us!

Newer pictures of Obonya -
click here
.
Pictures of Obonya with her grown-up children
click here
Show 'kids' A-litter
click here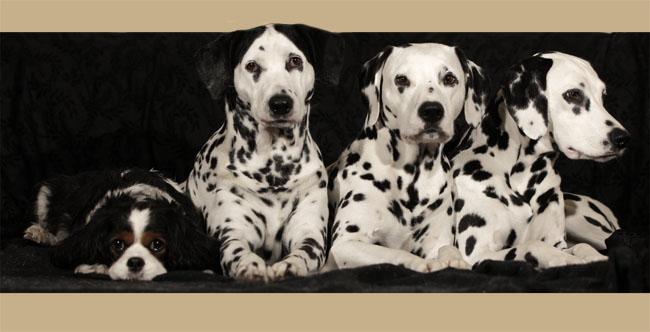 2013. Our girls ... Obonya's Pride. Mara, Nikita, Obonya, Anna-Tevka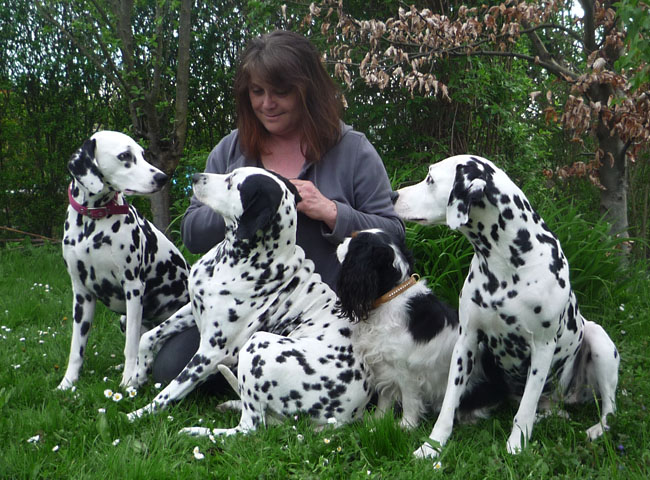 27.4.2013.Obonya's pride. Anna-Tevka, Nikita, Mara, Obonya and myself (Maria Becht-Wagner).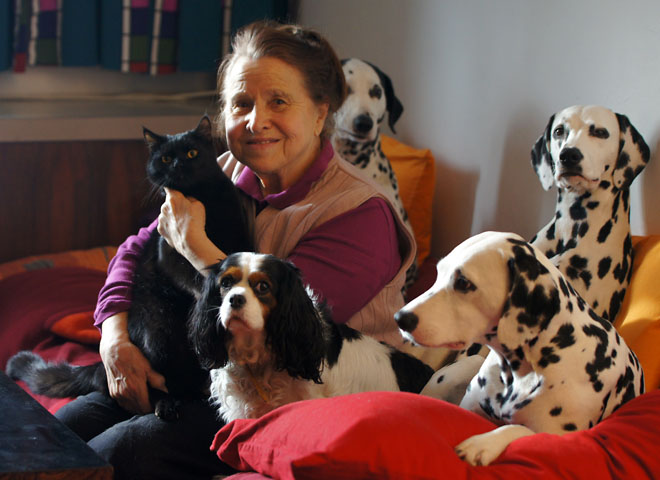 2013. My mother with her cat 'Maxi' and Nikita, Mara, Obonya, Anna-Tevka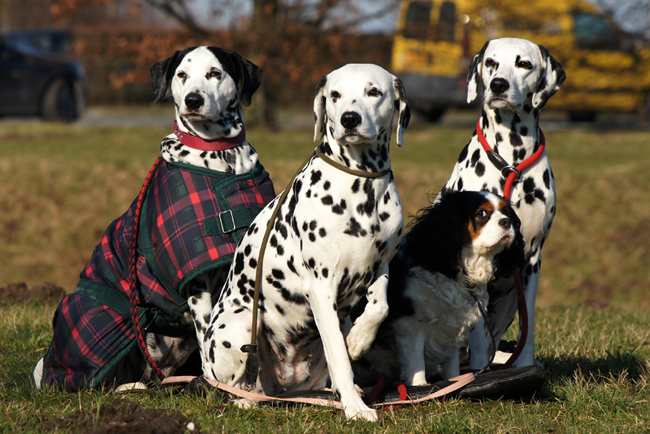 2013. Nikita, Obonya, Mara, Anna-Tevka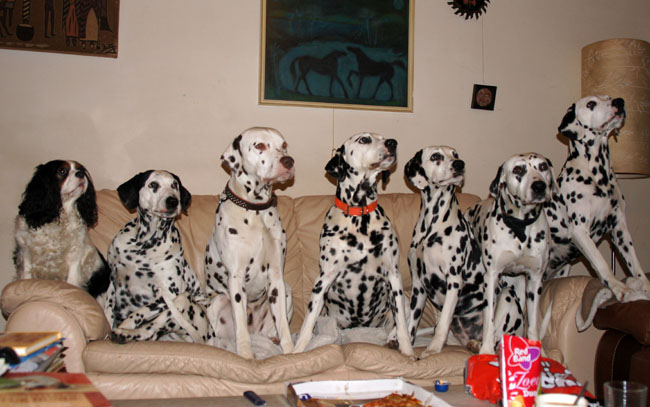 2013. With friends. Mara, Nikita, Sir Be À Daimond of The Three Turnip's, Bongo, Obonyas-pride Anna-Tevka, Bayou van het Gooibos, Obonya vom Teutoburger Wald.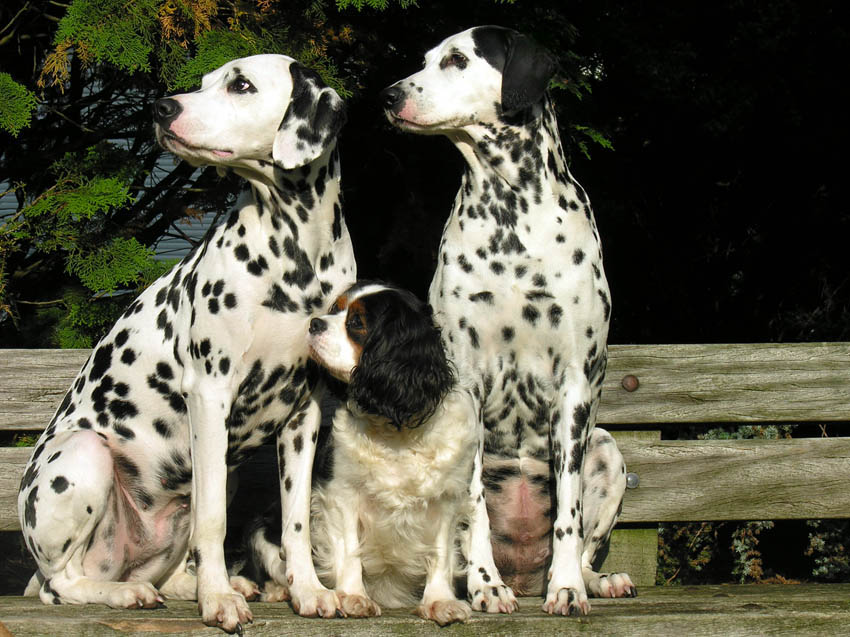 Obonya's Pride: our bitches 'Obonya vom Teutoburger Wald', Cavalier King Charles 'Mara' and Dalmatian 'Nikita'. October 2010.

The "Boss" Robert Becht with Nikita and Obonya vom Teutoburger Wald. April 2010.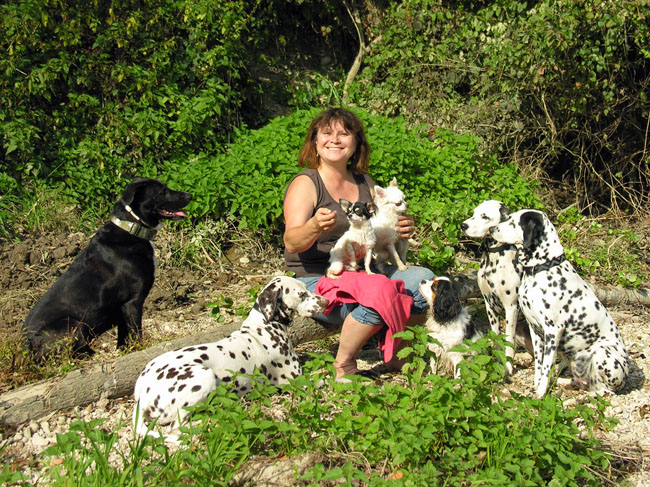 Myself, Maria Becht-Wagner, with my great love: dogs! Obonya vom Teutoburger Wald, Nikita, Mara, Christi ORMOND Everest Maxima, and the dogs of my girlfriend Nora. Austria, September 2009.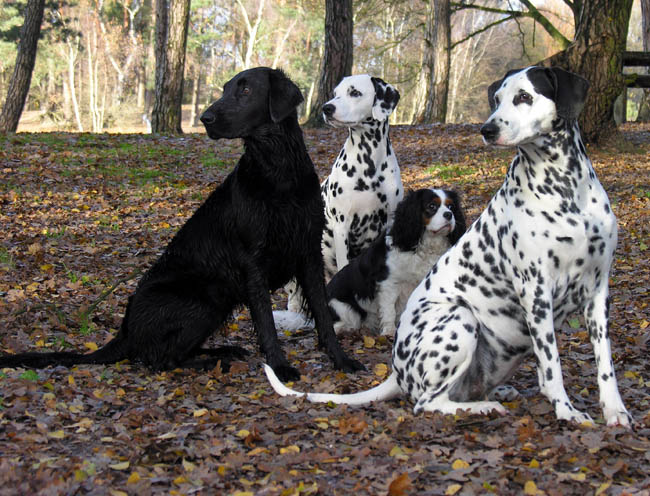 With their best 'bitch friend' Jill. Obonya vom Teutoburger Wald, Mara, Nikita. November 2010.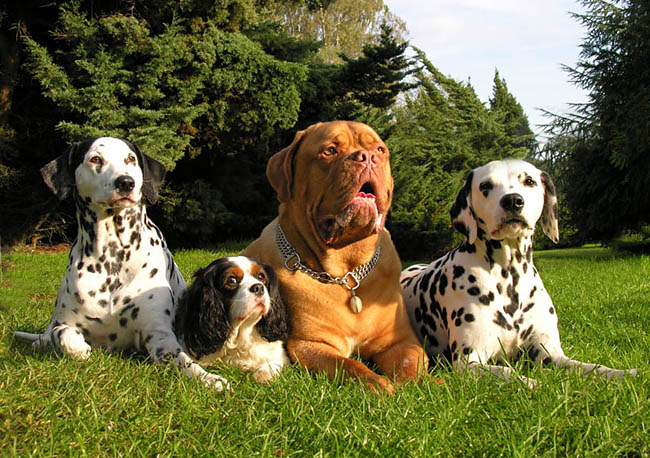 Nikita, Mara und Obonya vom Teutoburger Wald and their 'dog friend' Bordeaux dog Bono. Oktober 2010.